Russian Realtors
certified in St.Petersburg, Russia to co-broke in marketing and selling properties from ANY country to Russian buyers
in the process of updating

How to choose a Realtor/Co-Broker in Russia?
There are no Realtor licensing bodies in Russia, no laws that require Russian Realtors to be licensed, and no specific laws to regulate Russian Realtors' activities and commissions.

How should you evaluate a particular Russian Realtor in terms of their qualification, reliability and ethic? That's a tough question to answer lacking legal regulations and requirements.

Luckily, a solution to this problem can be found, as there are several associations of Realtors in Russia that are concerned about this situation and perform VOLUNTARY CERTIFICATION of their members.

Russian Realtors certified by St. Petersburg Association of Realtors
St. Petersburg Association of Realtors (ARSP) is one of the most important among Russian real estate associations.

St. Petersburg is the second largest city in Russia and the third largest in Europe after Moscow and London. St. Petersburg was the capital of Russia in the past. Many analytics notice that its market of real estate buyers expresses the fast growing interest in foreign properties now as more and more foreign real estate shows expand to St. Petersburg from Moscow and public attendance of the shows has been steadily increasing.

ARSP started as the association of 12 Realtors in St. Petersburg in 1993, now there are more than 100 corporate members and more than 1700 certified real estate agents.

The goal and purpose of ARSP are standardization of the real estate industry in Russia based on the best experiences and achievements of world's Realtors associations.

ARSP accepted the Code of Professional Ethics that regulates its members' real estate related activities in the absence of specific real estate laws and Realtors' licensing system in Russia.

ARSP performs certification of its members since 1994. So, sticking with the ARSP members, the Realtors who have imposed high ethic standards upon themselves, you can't go wrong choosing a real estate partner in Russia to co-broke.

Certified Realtors selling foreign properties to Russians in St. Petersburg
There is a list of corporate members (more than 90 now) on the ARSP website. There are more than 20 who have various foreign countries listings for sale on their websites, among the members now.

The ARSP site and members' websites are all in Russian as they are aimed at buyers in Russia, but those Realtors in Russia who deal with properties from various foreign countries usually speak some English or have an English - speaking staff.

Any of the Realtors on the List might become your potential partners in selling your properties to Russian buyers.

Realtor's fees and commissions are not regulated in Russia; a common practice is to get half of your commission in case of a foreign sale, but it's all negotiable.

Realtor agreements are usually non-exclusive in Russia, so you can work with several partners at the same time if you wish.

Each ARSP Realtor's information on the List of 20 contains a company's name transliterated into English, short description, website, foreign listings URL (for you to have an idea about their online marketing possibilities) and contact information. Some provide only corporate contacts, some give their agents' emails as well.

It's a common practice among Russian Realtors to ask website visitors to fill out a request form for any type of foreign properties the visitors want to buy, but can't find on the site at this time, so their websites might be generating a demand for properties they don't represent now - so, feel free to offer your listings even if you don't see your country on a Realtor's recent list.

How can I help you in establishing partnership with Russian Realtors in St. Petersburg?
You can get the List of 20 St. Petersburg certified Russian Realtors, annotated in English with the Realtors' contact information included, emailed to you for $99. Some advice on how to deal with Russian Realtors, what to expect, etc., will come with the List.

I can email each Realtor on the List on your behalf with your business offer both in English and Russian, with a copy to you, for $149. You provide the English text of the offer.

I can prepare the text of your business offer in both languages, email it to each Realtor on the List, with a copy to you, for $199. You supply me with the information on your business and properties.

Please contact me with your choice for invoicing by email, at olga.kellen at english-and-russian dot com or through my CONTACT page.


P.S. My Guarantee: If any of the email addresses on the List is bad (you know, things happen on the Internet) and your message returns undelivered, please forward it to me. I'll say "thank you" for cleaning up the List and provide you 2 other contacts for 1, free of charge of course.


P.P.S. Discount: There is also the List of Russian Realtors in Moscow. You can get both Lists of St. Petersburg and Moscow Realtors with 20% discount.

Please note: these Russian real estate companies do sell international properties to Russians, but each of them may be specialists in one or other country or countries, while several really huge companies can cover the whole world or close to it.

If you'd rather prefer to get your own specialized List of Russian Realtors, who sell your country's properties in Russia, feel free to visit Russian real estate agents advertising international properties in Russian media 


If you are a do-it-yourself type and want to educate yourself on the topic, you can download my e-books *How to Find the Best Foreign Realtors and Make Your Offer of Cooperation in Sale Irresistible to Them* and *How to Sell Real Estate to the Russians* to apply the knowledge and contact the Russian real estate agents on your own (click on the book covers below to go to Amazon):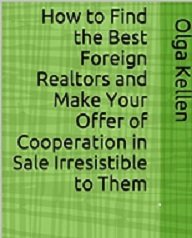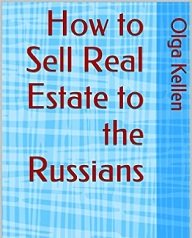 ---
Sincerely yours,

Olga Kellen,
English - Russian Translator,
Associate member of ATA,
American Translators Association