How to Email Russian Realtors Your Offer of Cooperation in Sales
You are willing to email Russian Realtors about your international property for sale? Hoping to sell it to Russian Buyers? Russians spent billions on buying international properties every year and it's quite understandable that every real estate seller in the world wants to offer their properties for sale to the lucrative Russian market.
 
Almost every day I receive an email or two with offers of cooperation in sales of international properties to Russians as some people mistake me for a Russian real estate agent I believe... Well, I'm not a real estate agent in Russia, as you know I'm English-Russian translator and Russian internet marketer of Russian origin residing in the North America. Russian is my mother's tongue, I got my education and work experience in Russia, know Russian business culture and mentality and as such I'm able to say how Russian agents would react to emails they receive.
Having seen a lot of emails sent to Russian realtors from international property owners, developers and real estate agents with an offer of cooperation in real estate sales to Russians, I've put together the list of 7 typical mistakes that prevent the authors of getting from Russian Realtors what they want.
 
As the main purpose of your first email to Russian Realtors is to inspire their interest in your property, you have to keep in mind that they receive many offers every day that's why your offer should stand out to be accepted over some others.
Your email offer of cooperation to Realtors in Russia should be in Russian preferably (translated by a human translator who knows Russian and Russian business culture very well), in English would be your next choice, but never machine translated (Russian Realtors can use machine translation on their own, at least then you are not responsible for any mistakes of such translation).
Why is it better to email Russian Realtors in Russian? It's one thing that in Russian it's more comfortable for them to read and fully understand, there is another consideration as well – they should have your property and area description for their own marketing purposes in Russian (to place on their own website, etc.), that's why they would prefer to respond to offers where they have less work to do (no translation to perform, it's done already). Do you see your advantage here if your email is in Russian?
I have created the list of 7 things to be included in your first correspondence when you email Russian Brokers seeking their cooperation in sales of your international property to Russian Buyers and also some tips on formatting your offer.
So, 7 "Do" things and 7 "Do Not Do" things while you email Russian Realtors, if you really want them to get interested in your international property and sell it to Russian Buyers, are summarized based on the vast experience and you can them get as a FREE Bonus if you order one of my Marketing Packages III or IV or VI.
Also these tips are all included in my e-book *How to Find the Best Foreign Realtors and Make Your Offer of Cooperation in Sale Irresistible to Them* (click on the cover image below to go to Amazon). 

Go from How to Email Russian Realtors to Find Russian Buyers to learn more about my Marketing-to-Russians Packages.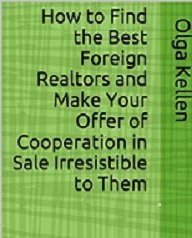 Sincerely yours,

Olga Kellen,
English - Russian Translator,
Associate member of ATA,
American Translators Association