Russian Realtors
in St. Petersburg, Russia to co-broke in marketing and selling properties from ANY country to Russian buyers

How to choose a Realtor/Co-Broker in Russia?
There are no Realtor licensing bodies in Russia, no laws that require Russian Realtors to be licensed, and no specific laws to regulate Russian Realtors' activities and commissions.

How should you evaluate a particular Russian Realtor in terms of their qualification, reliability and ethic? That's a tough question to answer lacking legal regulations and requirements.

Luckily, a solution to this problem can be found, as there are several associations of Realtors in Russia that are concerned about this situation and perform VOLUNTARY CERTIFICATION of their members.

Russian Realtors in St. Petersburg
St. Petersburg Association of Realtors (ARSP) is one of the most important among Russian real estate associations.

St. Petersburg is the second largest city in Russia and the third largest in Europe after Moscow and London. St. Petersburg was the capital of Russia in the past. Many analytics notice that its market of real estate buyers expresses the fast growing interest in foreign properties as more and more foreign real estate shows expand to St. Petersburg from Moscow and public attendance of the shows has been steadily increasing.

ARSP started as the association of 12 Realtors in St. Petersburg in 1993, now there are more than 100 corporate members and more than 1700 certified real estate agents.

The goal and purpose of ARSP are standardization of the real estate industry in Russia based on the best experiences and achievements of world's Realtors associations.

ARSP accepted the Code of Professional Ethics that regulates its members' real estate related activities in the absence of specific real estate laws and Realtors' licensing system in Russia.

There are more than 10,000 realtors in St. Petersburg, and although not every realtor is a member of any association as it is voluntarily, many of them are good anyway.
How can I help you in establishing partnership with Russian Realtors in St. Petersburg?
If you prefer to get your own specialized List of Realtors, who sell your country's properties in Russia, feel free to visit Russian real estate agents advertising international properties in Russian media 


If you are a do-it-yourself type and want to educate yourself on the topic, you can download my e-books *How to Find the Best Foreign Realtors and Make Your Offer of Cooperation in Sale Irresistible to Them* and *How to Sell Real Estate to the Russians* to apply the knowledge and contact the Russian real estate agents on your own (click on the book covers below to go to Amazon):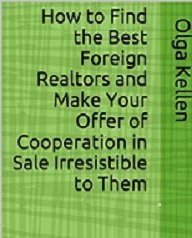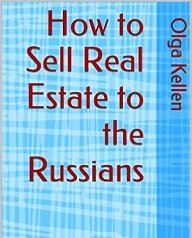 ---
Sincerely yours,

Olga Kellen,
English - Russian Translator,
Associate member of ATA,
American Translators Association