Russian Realtors
in St. Petersburg and other Russian regions selling properties from ANY country to Russian Buyers
Russian Realtors work all over the huge country of the Russian Federation with a bit under 100 administrative regions.
The city of St. Petersburg has probably the biggest amount of real estate companies and working for them real estate professionals among other Russian areas (except Moscow, the capital, and Moscow suburbs, of course). The population of St. Petersburg is more than 5.5 million, and by some estimates there are more than 20 000 Realtors in the city.
St. Petersburg is the second largest city in Russia, and the third largest in Europe after Moscow and London. St. Petersburg was the capital of Russia in the past. Many analytics notice that its market of real estate buyers expresses the fast-growing interest in foreign properties as more and more foreign real estate shows expand to St. Petersburg from Moscow and public attendance of the shows has been steadily increasing.
Russia does not require Realtors to be licensed. The names Realtors, real estate Agents and Brokers are being used interchangeable, also real estate Agencies or Companies mean the same thing, and also no licenses required to sell or buy properties. As a result, no exclusive contracts with sellers or buyers of properties exist with Russian Realtors, and you may work with several Realtors at the same time in Russia.
Anyway, some efforts are being undertaken to bring the real estate industry in Russia to the standards of the countries where the markets are much older and established, and real estate laws are more developed.
Russian Guild of Realtors as a national-wide association of real estate market professionals has approximately 1,500 companies, including 50 regional associations, works on the issues. The professional standards and ethic codes have been developed and are applied to the members who undergo voluntary certification, sort of licensing by the Guild.
Russian Realtors in St. Petersburg
St. Petersburg Association of Realtors is one of the first established and most important among Russian real estate associations (except Moscow of course).
The goal and purpose of the association are standardization of the real estate industry in Russia based on the best experiences and achievements of world's Realtors associations.
St. Petersburg Association of Realtors accepted the Code of Professional Ethics that regulates its members' real estate related activities in the absence of specific real estate laws and Realtors' licensing system in Russia.
We have to remember though, that not every Realtor is a member of any association as it is voluntarily, but many of them are good anyway.
Russian Buyers usually do not pay much attention whether a particular Realtor or real estate Company is or is not a member of any organization, but they prefer experience and reputation above all.
How to Choose Russian Realtors/Co-Brokers for Selling Your Property to Russian Buyers
As we've already mentioned, you are not limited to work with only one Realtor in Russia as your business partner in sales, especially if you want to target various Russian regions.
Realtors in a particular Russian geographical region often may be even more important for your real estate sales than in Moscow actually (you may look at Moscow Brokers advantages on the Moscow page of this site).
Sometimes your best target buying population in Russia for your country's properties may live compactly in some area or areas – for example, let's look at the Republic of Tatarstan (population of 4 million) with its capital Kazan, where people speak Tatar, a Turkish language, along with Russian. Would it be effective to advertise your properties-for-sale in Turkey in this part of the Russian Federation? There are about 2,000 realtors working in Kazan alone.
Here we have to stress once more again that among the huge numbers of Russian Realtors definitely not everyone works with international properties-for-sales, and even fewer of them would be specialists in your country in particular.
Any and all of Realtors have websites in Russian to attract Russian buyers as clients, and the task of choosing the proper Realtors suitable just for your business would be to find those who specialize in your country.
How can I help you in establishing partnership with Russian Realtors in St. Petersburg and other Russian regions?
If you prefer to get your own specialized List of Realtors, who sell your country's properties in Russia, feel free to visit Russian real estate agents advertising international properties in Russian media 


If you are a do-it-yourself type and want to educate yourself on the topic, you can download my e-books *How to Find the Best Foreign Realtors and Make Your Offer of Cooperation in Sale Irresistible to Them* and *How to Sell Real Estate to the Russians* to apply the knowledge and contact the Russian real estate agents on your own (click on the book covers below to go to Amazon):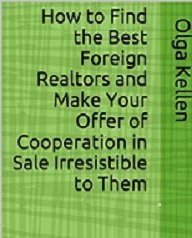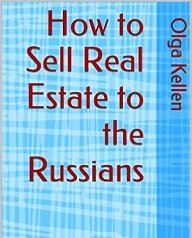 ---
Sincerely yours,

Olga Kellen,
English - Russian Translator,
Associate member of ATA,
American Translators Association