Selling to Russians
Selling to Russians is the way to increase sales

How to find Russian realtors to cooperate in sales of your international properties to Russians even if you do not know Russian


Go fishing where the fish is: selling to Russians with cash to invest in real estate 



"Russians spent more than $12 billion on overseas real estate last year, with more than $1 billion of that coming to the United States, according to the National Association of Realtors"
---Yahoo Finance


"From Russia With Cash -
Oligarchs Buy Homes in Chic U.S. Enclaves"

---The Wall Street Journal 
How to increase sales in international real estate market
Selling to Russians? Why so specific? The short answer is: Cash Buyers are there in Russia!
In real estate market the most important task is to bring more Buyers to your listings. Where do you get Buyers while you've done everything possible to promote your listings and yet - locals don't buy? The answer is - look where Buyers are, and Russia is one of these promising places.

Russians have the money and willingness to invest in real estate abroad. And they do buy a lot; resort areas and big cities all over the world are very popular among Russian Buyers, properties with some growth potential as investment and more and more commercial properties lately.

Some analysts say that Russians pull funds away from the stock market to invest more in international real estate. Middle-class Russians see investment in real estate abroad as a future security for their retirement as there is still no reliable pension system in Russia if any at all. Russians used to have savings in foreign currencies (US Dollar and Euro), so most of the time they are cash buyers, no financing problem with them.


From The New York Times:
Real Estate Agents Look Across Borders for Buyers

"Real estate agents around the country are increasing their efforts to woo the Russian oligarchs and other international buyers who have been making news with splashy top-dollar purchases.
"They are the most aggressive buyers in the market right now," said Kevin McBride, an agent with Atlanta Fine Homes Sotheby's International in Atlanta. In international hubs like Atlanta, overseas clients now account for anywhere from 10 to 30 percent of sales, industry experts say.
"The dollar has gotten stronger and that makes the investment appeal that much weaker," said Melissa Cohn, president of Manhattan Mortgage Company. That is not good news in Manhattan, where international buyers typically buy a third or more of the apartments in new buildings, local experts say.
"But international buyers continue to play an important role in the local market. For the W New York Downtown, a 56-story project under development in Manhattan, 74 percent of the initial sales have been to foreign buyers, a project spokesman said.
"In Miami, which has been particularly hard hit by the market slowdown, as many as 50 percent of sales in some neighborhoods are to overseas clients, despite the credit crunch and strengthening dollar, said Teresa Kinney, chief executive of the Greater Realtor Association of Miami and the Beaches. The organization was host to a contingent of 150 international agents, including 103 from Russia, who toured properties and networked with Miami agents. And in the past year group members have traveled to events in Paris, Madrid and Moscow to forge alliances.
"It's our biggest source for new business in Miami," Ms. Kinney said.
"Around the country, industry executives are organizing similar initiatives.
"In Hawaii, Dano Sayles of Coldwell Banker Island Properties is expanding his participation in international groups and attending conferences around the world to make new contacts.
"As global markets slow, agents say different types of international buyers have been emerging. In many markets, "vultures" are going after depressed and foreclosed properties, sensing the bottom. Others are looking at luxury real estate as a safe investment, more than simply a second home.
"People are buying in the U.S. not necessarily because they think it's cheap. They're buying because they see it as a safe haven for their money. Many of those buyers aren't affected by credit problems - they're paying in cash, agents say."
Marketing international real estate to Russian Buyers and selling to Russians has some specifics that we'll discuss in the E-Series: How to Beat Your Competition Selling Real Estate to Foreign Buyers. You'll find advice in the first e-book of the Series on the following:

* How to find foreign realtors to cooperate in sales of your properties even if you do not know their language
* How to present your offer of cooperation to foreign realtors

The second e-book of the Series explains where to advertise to international real estate buyers and how to choose the best marketing platforms. 
The third e-book of the Series reveals the best ways of selling to Russians, their preferences in real estate and how to take this info into consideration to be successful in international property sales.

Visit Olga Kellen's Amazon Author's Page to download the books of the E-Series: http://www.amazon.com/author/olgakellen or click on any book cover below to go to Amazon. 

The E-Series talks about foreign buyers of real estate in general, and it fully applies to selling to Russians of course.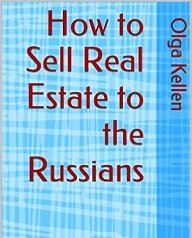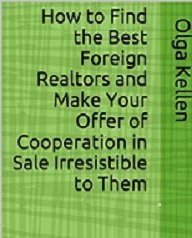 ---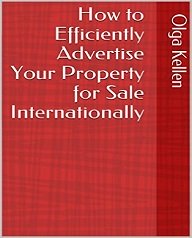 ---
Sincerely,


Olga Kellen,
English - Russian Translator,
Associate member of ATA,
American Translators Association