Selling to Russians
Selling to Russians is the way to increase sales

Go fishing where the fish is: selling to Russians with cash to invest in real estate 

How to find Russian realtors to cooperate in sales of your international properties to Russians even if you do not know Russian



Selling to Russians? Why so specific? The short answer is: Cash Buyers are there in Russia!
In real estate market the most important task is to bring more Buyers to your listings. Where do you get Buyers while you've done everything possible to promote your listings and yet - locals don't buy much? The answer is - look internationally where Buyers are, and Russia is one of these promising places.
Russians have the money and willingness to invest in real estate abroad. And they do buy a lot; resort areas and big cities in many countries are very popular among Russian Buyers, properties with some growth potential as investment, and commercial properties, too.
Super-rich Russians were always known for their purchases of expensive villas and yachts all over the world. Middle-class Russians see investment in real estate abroad as a future security for their retirement as there is still no reliable pension system in Russia. Russians used to have their savings in foreign currencies (US Dollar and Euro), so most of the time they are cash buyers, no financing problem with them.
Look who is selling to Russians in 2022-2023

-From Financial Times: "Across Dubai, UAE, you're hearing about homes changing hands for crazy money, the Russians have been doing this for the past year: bidding each other up for the big trophy homes.
"Boosted by purchases from rich Russians, Dubai's property market has boomed. In the past year Sotheby's Dubai has sold between $600mn and $1bn worth of homes to Russians or those from ex-Commonwealth of Independent States countries - all of them for more than $5mn. By value, the group accounts for a third of all the company's business."
-From Deutsche Welle: "Real estate prices in the Turkish Mediterranean city of Antalya are exploding due to high demand by Russian buyers. Rent is becoming unaffordable for many locals."
-From Bloomberg: "Russians became the top foreign buyers of real estate in Turkey, helping sustain the world's hottest housing market by tripling their purchases as sanctions over the Kremlin's invasion of Ukraine drove them to invest abroad.
"Russian nationals bought a record 16,312 homes in Turkey in 2022, according to data released by the Turkish Statistical Institute. That's a 203% increase from 2021 and represents almost a quarter of all sales to foreigners.
"Many Russian buyers are applying for citizenship, a right granted to those who buy homes for at least $400,000."
-From Bangkok Post: "Russian buyers were the leading purchasers of pool villas in Thailand last year, mostly choosing three- to five-bedroom units."
-From The Diplomat: "Why Are Russians Buying Real Estate in Phuket, Thailand? The Thai beach resort is viewed as a safe haven for overseas investment.
"According to Thailand's Real Estate Information Center, 40 percent of all condos in Phuket are Russian-owned."
These are just some recent publications in the world top media, you can find many more that are similar to the above, and also about other countries selling to Russians.  
How to increase real estate sales to Russians

Depending on your preferences, for selling your properties to Russian Buyers you may choose Passive marketing to Russians (involving realtors in Russia to do the job and find Russian Buyers for you, later you pay commission on sale) OR Active marketing to Russians (doing and paying your own advertising in Russian to find Russian Buyers, no commission).
Also you can go both ways at the same time (through Russian realtors and by your own adverting in Russian), but marketing costs money of course…
You may want to go to my pages: Find Russian Buyers (english-and-russian.com)  and Russian Real Estate Portals (english-and-russian.com) for more details.
Send your inquiries, questions, comments and ideas to CONTACT English Russian Translator, Russian Internet Marketer O Kellen (english-and-russian.com)
E-books on "Selling to Russians" (and to Foreign Buyers in general)

Marketing international real estate to Russian Buyers and selling to Russians has some specifics that we'll discuss in the E-Series: How to Beat Your Competition Selling Real Estate to Foreign Buyers.
You'll find advice in the first e-book of the Series on the following:

* How to find foreign realtors to cooperate in sales of your properties even if you do not know their language
* How to present your offer of cooperation to foreign realtors
The second e-book of the Series explains where to advertise to international real estate buyers and how to choose the best marketing platforms. 
The third e-book of the Series reveals the best ways of selling to Russians, their preferences in real estate and how to take this info into consideration to be successful in international property sales.
Visit Olga Kellen's Amazon Author's Page to download the books of the E-Series: http://www.amazon.com/author/olgakellen or click on any book cover below to go to Amazon. 

The E-Series talks about foreign buyers of real estate in general, and it fully applies to selling to Russians of course.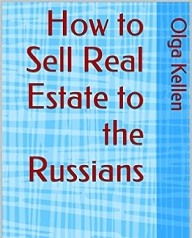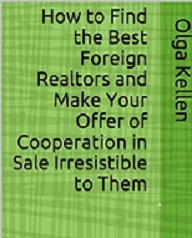 ---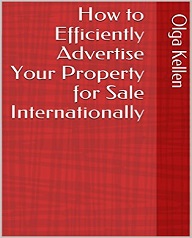 ---
Sincerely,


Olga Kellen,
English - Russian Translator,
Associate member of ATA,
American Translators Association