Promotion on Russian Internet
Russian Internet? What's that? Having been asked so often "Why is it so important to be on the Russian internet?" I'd like to put together this basic info on RuNet = Internet in Russian, and also talk a little bit about website promotion to get Russian buyers for your international properties.
·         Russian language has over 258 million total speakers worldwide. It is the most spoken Slavic language, and the most spoken native language in Europe, as well as the most geographically widespread language of Eurasia. It is the world's seventh-most spoken language by number of native speakers, and the world's eighth-most spoken language by total number of speakers. Russian is one of the six official languages of the United Nations. (Wikipedia)
·         85% of the country's total population in Russia were internet users as of 2020. (Wikipedia) 
·         Russia overtook Germany on the European market with the highest number of unique visitors online back in 2011. Also in 2013 a survey found that Russian had become the second most commonly used language on the web. (Wikipedia) 
·         Russia ranks 3rd in the number of domain names (.RU) in the world, having reached one million in 2007, five million in 2014, and counting. The first .RU website in Russian was registered more than 20 years ago. The Internet Corporation for Assigned Names and Numbers (ICANN) had approved the first non-Latin domain registration in Cyrillic .RF (Russian Federation) and it has been functioning since 2010. Now there are about a million sites in this new domain.(Russia Today)
·         Most internet searches in Russia are conducted on Yandex.ru (the number five search engine in the world, and used by Russian-speaking searchers not only in Russia, but in other countries as well), followed by Russian Google ; there are also smaller players Mail.ru, Rambler.ru, says a study of Internet usage in Russia. (comScore.com)
·         The founder of Yandex Arkady Volozh was a billionaire on the Forbes List. (Forbes.com)
·         Russia has the largest advertising market in Central and Eastern Europe. In 2021, Russia was the 14th largest ad market worldwide, valued at 7.85 billion U.S. dollars. The past decade saw a rise in digital advertising in Russia and the online advertising budget grew more than sevenfold. 2018 was the first year when the Russian internet had the highest spending among all channels, surpassing television. (Statista.com)


So, if you are willing to promote your real estate, goods or services in Russia and other Russian-speaking countries through the internet, you'll be in the great company.
International Real Estate Websites on Russian Internet

Real estate internationally related websites in Russian are of several types:

-International Russian real estate portals where listings and/or ads of properties-for-sale from any country of the world may be published in Russian and viewed by potential Russian buyers. You can see details at Russian Real Estate Portals (english-and-russian.com)
-International realtors' websites where they offer properties-for-sale from all over the world to potential Russian buyers. The realtors' sites of bigger real estate companies may represent properties from many countries on one site, while smaller real estate companies may deal with properties from one or the other country only. More details you can find at Russian Real Estate Agents advertising international properties (english-and-russian.com)
-Websites of international real estate shows in Russia where realtors and developers can apply to participate. Details: Real Estate Exhibitions in Russia (english-and-russian.com)
-Travel websites where one can often find specialized tours for buying properties abroad, pages with such properties, etc.
-Forums with discussions of pro- and con- of countries and their real estate in terms of attractiveness to Russian buyers and renters
-Newspapers' and magazines' online editions as well as pure online media with articles on the topic of international real estate and potential Russian buyers
-Investment advisors' websites where they talk about investing in real estate internationally as a way to save clients' money for retirement, etc.
What can you do to promote your Russian website/page/listing to the top in Russian search engines, to win as many Russian visitors online as possible (and turn them into clients eventually, of course)?
Basically the promotion techniques are the same well known, just they must be performed in Russian: creating rich and convincing content populated by proper keywords, arranging links to your site from other high-ranking sites, posting to forums, articles libraries, etc., paid advertising on the Russian search engines as well.

Feel free to go from Russian Internet to CONTACT form and ask any questions you might have about your possible presence in this rapidly growing media - Russian Internet.
P.S. For those of you who are interested in your Russian internet presence, here is the e-book to help: *How to be the First on Foreign Google* (click on the cover below to go to Amazon).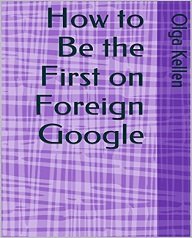 Sincerely yours,

Olga Kellen,
English - Russian Translator,
Associate member of ATA,
American Translators Association