Promotion in Russian Internet
Updated!
Russian Internet? What's that? Does it exist? Having been asked so many times "Is there Internet in Russia?", I'd like to put together this basic info on RuNet = Internet in Russian and also talk a bit about website promotion to get Russian buyers.


The Russian language is the sixth most widely spoken language in the world, following Mandarin, English, Hindi/Urdu, Arabic and Spanish. It is also one of the United Nations' six main languages. (Reuters Press Agency)


Runet to be populated by 110+ million users, the number one in Europe, ahead of Germany, France and England (comScore.com)


Russia ranks 3rd in the number of domain names ( .ru) in the world, having reached one million in 2007, five million in 2014, and counting. The first .RU website in Russian was registered some 20 years ago. The Internet Corporation for Assigned Names and Numbers (ICANN) had approved the first non-Latin domain registration in Cyrillic .RF (Russian Federation) and it has been functioning since 2010. Now there are about a million sites in this new domain.(Russia Today)


Most internet searches in Russia are conducted on Yandex.ru (the number four search engine in the world), followed by Russian Google ; there are also smaller players Mail.ru, Rambler.ru, says a study of Internet usage in Russia. (comScore.com)


The founder of Yandex Arkady Volozh is a billionaire on the Forbes List. (Forbes.com)


Top online advertisers comprised the following industries:
1) Mobile communications - Beeline, Megafon, MTS (MTSC)
2) Automotive - Nissan (NSANY), Toyota (TM), Peugeot, Volvo
3) Mobile phones - Nokia (NOK)
4) Consumer goods - Wrigley (WWY), Procter & Gamble (PG)
5) Technology - Intel (INTC), IBM (IBM), Microsoft (MSFT)
6) Telecommunications - Comstar
7) Retail - Eldorado, M-Video, Evroset, Technosila
8) Financial services - Citibank (C), Maxwell (MXWL)


So, if you are willing to promote your real estate, goods or services in Russia and other Russian-speaking countries through the Internet, you'll be in this great company.
What can you do to promote your Russian website to the top in Russian search engines, to win as many visitors (and turn them into clients eventually of course) as possible?
Basically the promotion techniques are the same well known, just in Russian: creating rich content populated by proper keywords, arranging links to your site from other high-ranking sites, posting to forums, articles libraries, etc., paid advertising on Russian search engines as well.

Feel free to go from Russian Internet to CONTACT form and ask any questions you might have about your possible presence in this rapidly growing media - Russian Internet.


P.S. For those of you who are interested in your Russian internet presence, here is the e-book to help: *How to be the First on Foreign Google* (click on the cover below to go to Amazon).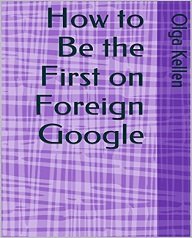 Sincerely yours,

Olga Kellen,
English - Russian Translator,
Associate member of ATA,
American Translators Association