English Russian Translator
Olga Kellen

Highlights
As English Russian Translator, Olga Kellen has the following qualities:

Fluent in English and Russian (native)


Specialized in Real Estate, Internet, Marketing, Business, Science, Computers, Technical translations


Excellent writing skills in English and Russian


Excellent computer and internet skills


Bicultural between Russian speaking countries and North America


20+ years of work and translation experience


Accurate and fast translator


Competitive rates


Associate member of ATA, American Translators Association



Work and Translation Experience
Freelance English Russian Translator
English - Russian and Russian - English translations in the fields of real estate, internet, marketing, business, technical, science, computers and general


Internet Marketer
international real estate, translation services


Management Consultant
international adoption internet publishing, book self-publishing and book promotion


Coach
international adoptions


Program Coordinator
international adoption from Ukraine


Small Business Owner
consulting and tutoring


Scientific Researcher
theory and applications of wave propagation using computer modeling methods
Skills and Abilities
Communication, Writing and Publishing
wrote and published translations, ebooks, articles, press releases, reviews, website content, blogs, marketing and scientific research reports in English and Russian


Project Management
planned and organized consulting, scientific and marketing research projects; analyzed and solved complex problems in the fields of business and science


Research
with R&D background in Science, performed research and wrote reports on a broad variety of topics in Business and Industries, both in English and Russian;

some of the recent internet research topics are as follows: marketing and selling international real estate to Russian buyers; real estate promotion in Russian internet; publishing and self-publishing; book marketing and promotion; international adoption and consumer protection; international employment and immigration; business contacts and advertising in Russia; stem cell and marrow bone research in Russia; etc.;

scientific research topics were as follows: wave theory and its multiple applications; computer modeling methods and data processing applications; etc.
Education
Business courses in Bookkeeping, Internet Sourcing and Real Estate
Advanced courses in Data Processing and Computers
M.S. in Engineering Physics (from a Russian university and later evaluated in the U.S.)
Diploma in Foreign Languages (English)

As Dr. Lois Feuerle, one of American Translators Association Directors, once said in her interview: "Basically, if you are a translator or interpreter, everything you've ever done, are doing at the moment, or ever will do will certainly help you as a translator and/or interpreter... translation is what you should do last in life, because everything else is a preparation for it." (Dr. L. Feuerle is a living proof herself as she was a lawyer, university teacher and worked a number of other jobs before becoming a translator)




Olga hopes that her versatile experiences WILL serve your English - Russian translation needs the best way, and thanks you for your interest.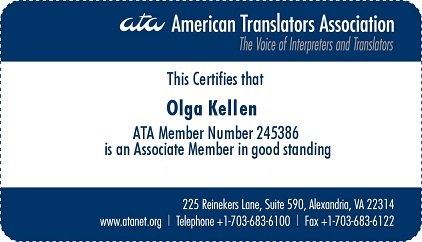 Summary of Reasons to Hire Olga Kellen, English Russian Translator, for Real Estate Marketing on Russian Internet

Real Estate Marketing in Russian for English-speaking property sellers - who do not know Russian - is a rather specific field of knowledge.
The professional in this field must have education and experience in real estate, online marketing, and English and Russian languages and also definitely be very well familiar with cultural differences of the target audience – Russian in our case.
Olga Kellen, the English Russian Translator, fully fits such professional profile as you can see from the above credentials: Russian and Russian culture are native, English and North American culture are acquired, but already like native as well, specialization in marketing and real estate has been confirmed by the courses taken and then many years of experience.
So, for success in international real estate marketing in Russian and profitable sales as a result, the marketing professional hired for doing the job must have all 3 skills at the same time:
-Great knowledge of Russian language and culture to properly target the Russian audience;
-Experience in real estate and real estate English Russian translations (property descriptions and legal documents that are property related, websites' content, etc.);
-Experience in online marketing and Russian internet to define the best ways to market any particular property (finding websites that suit for advertising just this property, creating headlines that stand out, websites' promotion, etc.)
Olga Kellen's skills are exactly right for such a job.
On top of that, with the previous education and work history in tech and science Olga had developed analytical and organizational capabilities and is able to implement any marketing project - big or small - for the best promotion of a property for sale to the target audience of potential Russian-speaking buyers interested in purchasing real estate all over the world.
Such marketing in Russian might be useful for English-speaking private sellers, realtors and developers in many countries.
Please go from English Russian Translator to CONTACT form and describe your needs in marketing to Russians