International Realtors in Russia and Russian-speaking countries 

How to find International Realtors in Russia and Russian-speaking countries to help you with selling your property to Russian Buyers? This is one of the most popular questions, because Russians spend billions of dollars on real estate abroad every year and many real estate owners, realtors and developers in the world are interested to sell to Russian Buyers.
There are thousands of real estate companies in Russia with hard to say how many realtors working for them and independently too. Most of them work for domestic real estate market though, and only a small part of realtors sell international properties to Russians – some on the side and some being truly international realtors in Russia. The realtor's profession is just a bit more than 20 years old in Russia and still not regulated.
Before the fall of communism there was no private property in Russia, it all started with privatization of real estate, and the first realties were legally registered at the beginning of 1990's. Other Russian-speaking countries of the former Soviet Union were several years behind with this process of privatization and then buying-selling real estate with or without help of realtors, but all of them followed the steps of Russia more or less.
Generally speaking anybody can call himself a realtor in Russia as there are no licensing or educational requirements for international realtors in Russia. There is no Multiple Listing Service either – every realtor actually works on his own as they do not want to share commission with each other (of course cooperating with any foreign realtor they want to receive a fair share from them!)
There is no obligation of having an exclusive agency agreement with a buyer or seller of real estate in Russia.
The real estate industry looks a lot different in Russia and Russian-speaking countries from the US and other Western countries!

Having said all that, we know anyway that there is a trend in Russia to make the real estate field regulated to some extent. Big and reputable real estate companies organize local associations to get their members voluntarily certified in real estate and there is the all-Russia association of realtors.
Members of all these Russian associations of realtors are a mix of domestic and international players.
Geography of International Realtors in Russia
As everybody in the world probably knows, Moscow is the richest Russian city and St. Petersburg is coming next. At the same time other Russian cities have become regular suppliers of international properties buyers and so do Russian-speaking countries neighboring Russia which means there are international realtors working all over there as well.
All of them have websites in Russian and advertise in Russian online and in print, but visitors' traffic to their brick-and-mortar offices differs of course depending on their geographic location. Also based on location of these international realtors there might be different preferences in what their clients are looking for in terms of countries and properties to buy internationally.
Some international realties in Russia and Russian-speaking countries are huge companies representing many foreign countries properties for sale in Russia and around, some have narrow specialties in one or several countries only, some are representatives of foreign developers or realties selling just their own properties.
So, now when we had a look at the general picture, let's go back to the most important question:
How to find International Realtors in Russia and Russian-speaking countries to help YOU with selling YOUR property to Russian Buyers?
The most practical way might be looking at international realtors in Russia and Russian-speaking countries who advertise your country's properties for sale , because they already show interest in your country and might even have buyers ready for you too as a result of their recent ads.
Through the link you'll go to the page with more detailed description of the importance of the right choice of international realtors in Russia to become your best partners in property sales to Russians, and how I can help you with that.
Often I receive messages in English from real estate sellers and agents all over the world who think that if they have found my website in English, I might work as their realtor in Russia – not true… (Well, I'm not a realtor in any country anyway…)
Realtors in Russia may be found online of course, but IN RUSSIAN - please click on the link above to learn how.
If you are a do-it-yourself type and want to educate yourself on the topic, feel free to download my e-books "How to Find the Best Foreign Realtors and Make Your Offer of Cooperation in Sale Irresistible to Them" and "How to Sell Real Estate to the Russians" (click on the covers below to go to Amazon) and apply the knowledge on your own: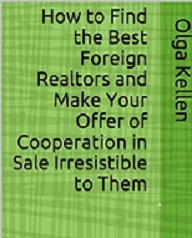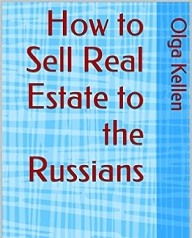 ---
Sincerely yours,

Olga Kellen,
English - Russian Translator,
Associate member of ATA,
American Translators Association