Top Russian Real Estate PORTALS where Russian buyers search for properties in ANY country in the world
and
agents/owners from ANY country can post property listings
Russian real estate portals present domestic and international properties to Russian buyers in Russian.
There are many international real estate portals in English on the Internet, but if you want to sell your properties in ANY country of the world to Russian buyers, you have to list your international properties on real estate portals in Russian Internet.

The List of Top Real Estate Portals on Russian Internet (with English capabilities for advertisers), annotated in English, for agents and owners from ANY country who are interested in marketing their properties all over the world to Russian buyers, has been updated. The Portals included are those with the dashboards in English which means that you can post WITHOUT knowing Russian!

All of the Portals appear on the first pages of search engines when Russian people search in Russian Internet for international real estate properties.

The Portals have the information for foreign advertisers in English.

Some Russian Portals include listings' translation into Russian in their service, some use automatic translation (those translations are of low quality), most leave it up to you.

For each Portal there is a short description with the countries represented, traffic, how it works; the URLs of the home page, registration / "add listing" page, advertising price lists; contact information - anything needed to use the best Portals for your real estate sales.

You can get The List of Top Russian Real Estate Portals, annotated in English, with all the information on their use for your real estate marketing to Russians included, emailed to you for $99. Some advice on how to deal with listings, what to expect, etc., will come with the List.
NOTE: Translation into Russian of one property listing description is also included in the price.

Please contact me for invoicing to receive The List of Top Russian Real Estate Portals
On the other hand, if you are not interested in learning about all of the real estate portals in Russian internet, but still want to post your listing over there in Russia, I can do this for you with one of the free portals of my choice with photos and description in Russian (you provide it in English of course), for $100 per property per portal.
If you are more of a do-it-yourself type, you can learn about Russian real estate portals, how to find them and post your listings and ads from my e-books on the topic - please click on the covers to go to Amazon.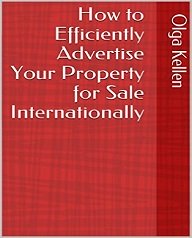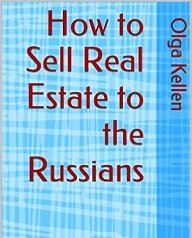 ---
Sincerely yours,

Olga Kellen,
English - Russian Translator,
Associate member of ATA,
American Translators Association